Sustainable. Responsible. Fully Insured.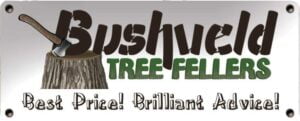 Story of Bushveld Tree Felling
We have been in the tree felling business for over 16 Years! Our wealth of experience enables us to grow sustainably and provide the best service in the business!
We are a full fledged operation with all types of Tree Felling services and we have years of experience in the industry. We offer all types of services cost effectively. We go the extra mile to ensure your tree felling and maintenance requirements not only address your immediate needs but also create long-lasting customer relationships. The core of our business is to ensure safety is always our top priority and to ensure customers get the right advice and service.
Are you looking for a reliable company to help you with your tree felling?
Then look no further, we offer professional service at all times! Our experienced and skilled teams of tree fellers will make sure that your trees are felled safely and in timely manner.
we are fully insured and licensed to work at your property. All cutting is done with the appropriate safety precautions taken. It is our responsibility to ensure that the trees are correctly trimmed and left in a safe place. We will also inform you of any potential danger that may occur due to factors beyond our control such risk to other elements of the property before work commence.
Our team are extremely experienced in our field and we always implement sustainable felling practices to keep the benefits of trees in mind. We will remove all trees from your land and leave it looking much better than before. Waste will be removed with our equipment if required and we are fully licensed, insured and qualified to work on your site
Scheduling and availability? You got it.
We are always available to assist you, no matter what time of day or night. Our team is highly trained, equipped and ready to handle any job that comes our way.
Where price matters as much as professional service.
Fully Insured, Fully Compliant end to end tree felling services.